Vision and Opportunities for the 51-Mile Los Angeles River Corridor
September 19, 2019 @ 11:30 am

-

1:30 pm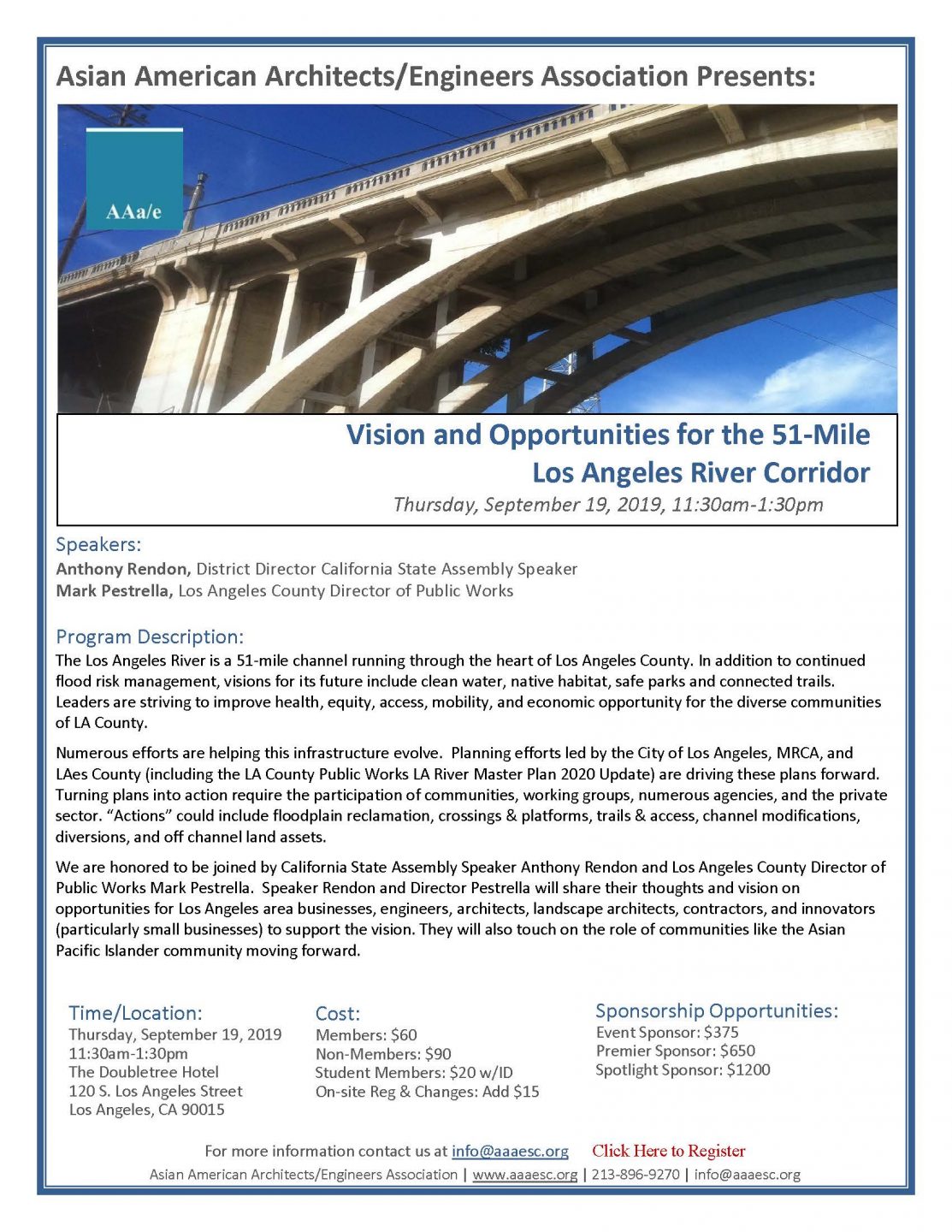 Click here to Register
Click here to Download Event Flyer
Asian American Architects/Engineers Association Presents
Vision and Opportunities for the 51-Mile Los Angeles River Corridor
Speakers:
Anthony Rendon, District Director California State Assembly Speaker
Mark Pestrella, Los Angeles County Director of Public Works
Program Description
The Los Angeles River is a 51-mile channel running through the heart of Los Angeles County. In addition to continued flood risk management, visions for its future include clean water, native habitat, safe parks and connected trails. Leaders are striving to improve health, equity, access, mobility, and economic opportunity for the diverse communities of LA County.
Numerous efforts are helping this infrastructure evolve. Planning efforts led by the City of Los Angeles, MRCA, and LAes County (including the LA County Public Works LA River Master Plan 2020 Update) are driving these plans forward. Turning plans into action require the participation of communities, working groups, numerous agencies, and the private sector. "Actions" could include floodplain reclamation, crossings & platforms, trails & access, channel modifications, diversions, and off channel land assets.
We are honored to be joined by California State Assembly Speaker Anthony Rendon and Los Angeles County Director of Public Works Mark Pestrella. Speaker Rendon and Director Pestrella will share their thoughts and vision on opportunities for Los Angeles area businesses, engineers, architects, landscape architects, contractors, and innovators (particularly small businesses) to support the vision. They will also touch on the role of communities like the Asian Pacific Islander community moving forward